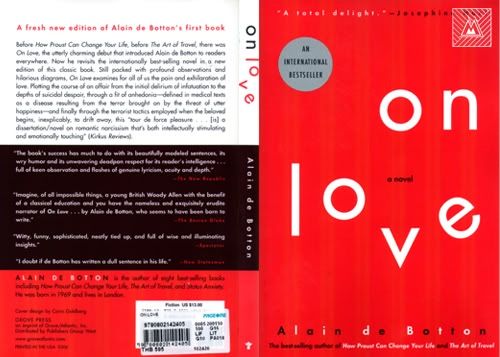 Apart from
Sherlock Holmes
and
Tuesdays with Morrie
, I find
On Love
by Alain de Botton to be undeniably addictive! Now, before I go on to ramble about this book I must confess that I only bought it because of the paper stock used on its cover and the legibility of the bodycopy (be it chosen typeface, point-size, or leading adjustment). hahahahahaah oTL. I sure judge a book by its cover and design. After all, I am a designer! lol * cough cough *
It's fair to say that I haven't actually been much of a reader most of my life. Often you'd find me laying on the floor/bed/or any hard surface with a half-opened book on top or next to me. Yes! books were much like nonprescription sleeping pills to me. ( I think I had already mentioned it in my previous post... ooops) Maybe it was because I hadn't really found any book to be both challenging and fun until now. But it all changed, for now at least.
On Love
made me officially declared myself nerdy bookworm! It's not just another novel. It's educational, fun, full of keen observation, and great for both fe/male readers. Normally, when I come across a book which is written in an advance English I am likely to give up or fall asleep on it. Not with
On Love
though. No matter how many unseen and unheard-of words there are, how beautifully crafted yet head-spinning the sentence structure is, I don't get tired of looking them up or re-reading it until it makes sense. If anything I was more eager to learn new words and expand vocabulary, though I don't necessarily memorize them all. XP... (yes my brain capacity seems to have deteriorated...)
The book title sums it up nicely. It is 'on love'. Love Love Love, anything to do with love - love in theory, love in philosophy, love in psychology, love in poetry, love in real-life experience and lovers in love. I'm always fascinated by human emotion and the way an individual expresses it. It's partly why I am loving this book! I thought I was going to learn more about what love actually is. Instead I learned a lot about myself and why I do what I do. It's ironic, I know.
Anywho! Next time I'll come back with a collection of quotes from this book :) I have written them all down. It's just a matter of typing them up on computer now.
PS. If you find my writing to be very academic like an essay, it's because I haven't spoken in English for 4 months now... Someone said to me I do sound like an assistant T-T.... I have just been reading books and listening to the NZ radio on streaming (purely for its accent which I miss) most of the time. Sooo... my ability to express myself in spoken language is extremely low!! oTL It's a downside of non-English speaker to be away from the English-spoken country for too long... Not having anyone to practice it with doesn't help it either. NVM!
*