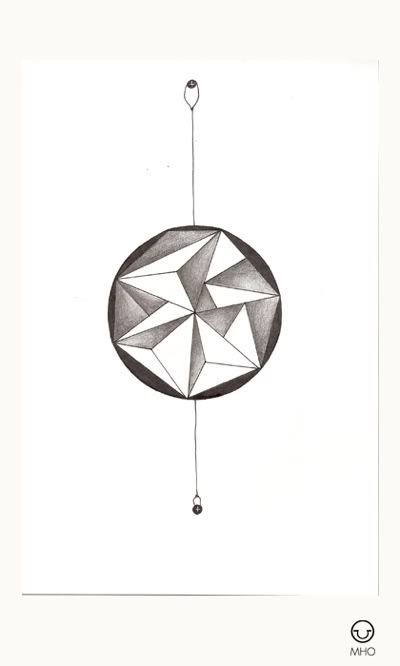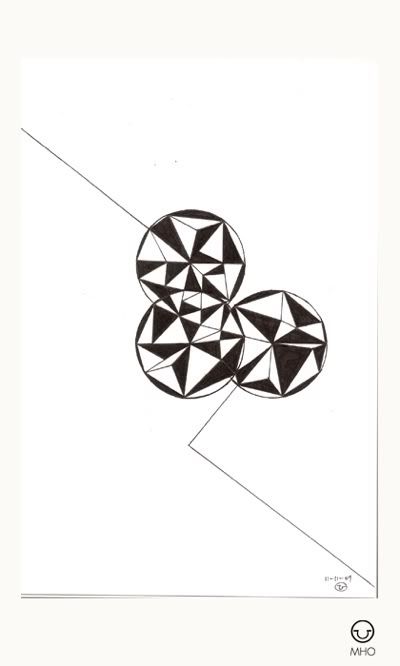 ช่วงนี้ชอบอะไรที่มันเป็นรูปทรงเลขาคณิต
อาจเป็นเพราะความเรียบง่ายที่ดูยังไงก็สวยและมีเอกลักษณ์
หากเห็นสามเหลี่ยมเพียงรูปเดียว ภาพที่เห็นอาจปรากฏให้เห็นเป็น 2 มิติ
แต่เมื่อนำสามเหลี่ยมหลายๆรูปมาจัดเรียง ในพื้นที่ที่ถูกจำกัดเช่นวงกลม
แล้วสร้างมิติด้วยการเติมสีขาวขำลงไป
เมื่อสองสิ่งนี้ถูกรวมเข้าด้วยกัน
วงกลมที่เห็นนั้นกลับดูคล้ายมีความลึกและความหนา
เปลี่ยนจากภาพแบนๆมาเป็นภาพมีมิติ . . .
ต่างจากชีวิตตอนนี้ - -;; แบนๆ เรียบๆ ไร้ความลึก ไร้มิติที่ 3 4 5 6...
อะไรมันจะ...​แบน...ได้ขนาดนี้!!! T____T
I've developed quite a strong bond with geometric shapes over the past days... I have a thing for them, as I always do for things to do with maths. lol. The beauty lies in their simplicity - crisp and clean shapes and outline and the distinctive feature.
A single triangle may appear as a 2-dimensional shape. As more of them are put together and filled in with colour, your eyes are tricked to see the third space - the depth. The image is no-longer flat...
If only my eyes are easily tricked to see the third dimension of my life...
I wouldn't feel this flat and lifeless right now -_____-;
Why...
My Current Thought:
Flat face.
Flat mood.
Flat life.
Fcking flatness in my fcking flat world.